Reactivating your site after lockdown: pump issues
Following the national lockdown caused by Covid-19, many FMs are facing 'back to work' issues. In this post, we provide some guidance on how to address problems with pump stations that arise when sites have been dormant for several months.
Why has COVID-19 impacted pump stations?
In our previous post, we described some of the problems that lockdown has caused for drainage systems. Similarly, with many premises closing their doors in recent months, pump-dependant sites have been impacted by underutilisation.
Many sites operate using a pumping station system as the final outfall to the main sewer. If servicing has been suspended or a site has shut down, it is likely that the chamber has become clogged by solidifying waste. This can cause the pumps to seize. Meanwhile, the accumulation of hard waste in the chamber will impact both the control system and the performance of the pumps.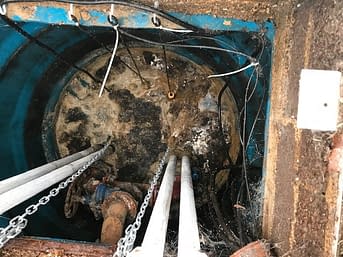 The photo above was taken recently by our pump engineers at a site that had been shut down for several months. As you can see, both pumps are completely encased in solid waste, rendering the whole system non-operational.
What can you do yourself?
An initial inspection of the pump control system is a usual first step. Using the controls, you are able to manually activate the pumps to confirm that they are engaged and pumping. If there is any doubt the system should be serviced and cleaned by your approved contractor.
What can Metro Mechanical do?
We are able to speak to you on the phone to support you with self-testing your system. But if you require more assistance, we have a team of pump engineers standing by. We also have electrical engineers to service control panels, and a large tanker fleet to remove blockages.
Please get in touch if you are worried about these issues. The longer sites are left in poor condition, the more significant potential damage will be. We at Metro Mechanical are here to help, so please give us a call on 020 8310 2000 or email on office@metromech.co.uk.